See it, Snap it, Love it: Candid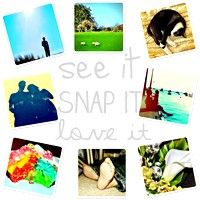 This week's theme for See it, Snap it, Love it is 'Candid'. One of the things I've enjoyed most about blogging has been finding a new love of taking photos and capturing those special moments.
However, I don't often get the chance to take photos of the children without one of them noticing and, in the case of Eli, trying to take the camera from me or, in the case of Meg, pulling silly faces and asking to see each photo.
So when I came out of the kitchen today after tidying up from lunch this was too good an opportunity to miss. They were both just lying on the beanbag together and didn't even acknowledge me when I came into the room.
Meg looks so serious (bless her!) I don't know what's going through her mind.
They stayed in this position for a good ten minutes, neither of them making a sound, just having a rest together.
For more on See it, Snap it, Love it, please go over to Dear Beautiful Boy.