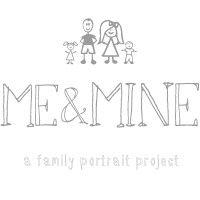 I know, I know, another selfie style photo for another project hosted by the amazing Dear Beautiful blog and six other lovely bloggers.

I love the idea of taking a photo of us as a family each month. I completely understand the mentality behind this linky. I am always the one taking the photos and am very rarely in them. I was saddened recently when I was looking through old photographs and I realised that there are hardly any of me and the kids. Lots of other people with my children, and my Other Half, but not so many of me. The beauty of this project is that we can get a capture of our whole family, which we are sadly lacking!

I am saving for a new camera but until I get it, you will have to make do with the photos I can grab on my phone.

I originally took a photo of all of us at the start of the month when we first moved to Southport. We went for some lunch and then wandered down the pier. As usual when we try to squeeze all four of us into a photograph, someone wasn't complying although it has to be said, it's usually Meg who won't smile but in this case, Eli was practising his pout.

We decided to make it a monthly thing, dinner and a picture at the end of the pier so we will have a photo type diary to look back on at the end of the year.

Don't worry though, I won't bore you all with the same posed selfie shot each month.



I am planning to get a teensy bit more creative with these pictures but it's going to be a learning journey for me. It's also getting a little bit sad that Meg knows when I get my phone out that we will inevitably do the family selfie portrait shot and now asks with a resigned tone when it will be!

I also thought I would include this one though, it's part of the perfect golden hours shoot we managed when we visited the sand dunes at Formby Beach. Honestly, I was so surprised that the pictures were taken on my phone but I guess it's all to do with the luck of having the light.

Everything about this picture is infinitely better, for a start we are all smiling!



Next time we will have to try and pose a little bit better, my Other Half lost out in this one being just a tiny head in the background.