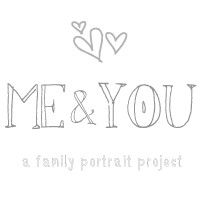 One thing I am constantly doing, is taking pictures of Meg and Eli. Apart from the occasional 'selfie', we very rarely have photos of myself and my Other Half together.

The Me & You photo project from Dear Beautiful is one I'm very much looking forward to and I'm hoping to get some more interesting and creative photos of us together. However, this month you will have to make do with a hastily grabbed selfie from the weekend (Meg and Eli were racing across the dunes so we didn't have much time!)

This year, we will have been together for nine years. We have been married for six of those years and in that time have experienced so much, including the arrival of our two beautiful babies. My Other Half is undoubtedly my best friend and I can't imagine anyone else understanding me the way he does.
When we first started going out.
What babies we were!
We are so different from each other; it has been the source of many a frustrated disagreement over the years but I also think it has been the cause of us becoming the best that we can be. We both bring something different to the relationship and it drives us forward in a unique (and often interesting!) way.

We often joke that we only got together because he made me laugh like no one else but the truth is that his ability to make me giggle like a little girl is an incredible quality. We have laughed our way through many a dark day and it is one of the elements I love most about our relationship. Of course there are many others as well but I won't turn this into a soppy rendition of why I love my Other Half!

Although quickly taken I love this photo. To me it is a reminder that we are embarking on this new adventure in our lives together…and still smiling. I also (personally) think that we look better with age. Or perhaps just less awkward!!