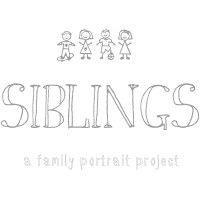 This month I am not enamoured with my photos. They were taken at the last minute, from the wrong angle (nice feet Eli), Meg did not want to comply, even with the bribe of chocolate buttons thrown in and Eli isn't very well so is rocking a red nose worthy of Rudolph.

I really wanted a portrait style picture of the two of them, looking straight at the camera. I'd captured some earlier in the month of their backs, which I love, but sometimes it's nice to see a face isn't it? Anyway, this is the best I have and I suppose it's a fair representation of Meg at the minute…Little Miss Won't Do What She's Told.



I mentioned in my last Siblings post about how the playing dynamic had changed and it's been great to see that continue when they play together but this month I have noticed that their playing styles have started to drift apart. Meg is about 'creating' something using the pictures on the box, Eli is a little bit more haphazard and I have often come into a room to cries of, 'but it's not to be played with!' – when Meg has set up her little world and Eli has come along and destroyed it by actually wanting to play with the toys!

As ever though, they continue to be joined at the hip when it comes to making mischief in the house and I will often find them hatching a plan to coerce myself and my Other Half to buy them something, or treat them to some ice cream or all the other things which seem so important when you are 4 and 2 years old!


Oh well, at least it sets me a challenge for next month, to get some nicer portrait ones!
I am linking this post up with the Siblings Project over on Dear Beautiful.