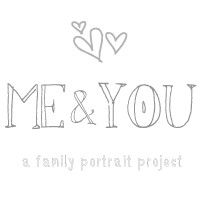 This month I have ummed and ahhed over whether to post anything for the Me & You project. I felt that to post a picture of myself and my Other Half smiling and looking happy would be completely dishonest because, truthfully, this month has been hard. This month has pushed me to almost breaking point. This month has made me question whether my marriage was worth fighting for.

When we stood in the church, six and a half years ago and made our promises in front of beaming family and friends, in front of God, that 'for better or worse' we would stick together, I think we fell into that category of people who don't really believe they will ever see the 'worse' – how could our lives ever go wrong when we are so in love, and so very happy?

Well, this month I have seen the worse. It is dark and it is ugly and it has been so flipping hard to remember the 'better' side of our marriage. I can honestly say that were it not for my faith I wouldn't be doing this post at all.

I am not sharing this to tantalise you into imagining what has happened in my marriage but because I don't want to be false in my sharing. I can't put an image of us staring lovingly into each other's eyes because that isn't a representation of where we are at right now.

Instead, I am sharing with you the image of a promise. A reminder that once upon a time, a girl met a guy and found her best friend. Fell in love with that best friend and entered into a promise that for better and for worse that she would stand by him. It's not always easy. It's not always fun. I have spent more time this month questioning everything I thought was solid and dependable than ever before but ultimately I am believing in my promise.

When we first got married we often joked about being 'Team Rocket' but this month I have realised more than ever what it means to truly be a team in marriage. I've chased myself around with words but couldn't do better than this:

Coming together is a beginning.
Keeping together is progress.
Working together is success.– Henry Ford

I love my Other Half more than anything in the world, he is my best friend and because of that I have made the decision to walk through this dark place with him. Trusting that eventually we will step out on the other side, better and stronger. Because we are a team.


Having read this back, I would like to clarify that neither myself nor the children have been physically hurt. I am alluding to an emotional issue and something which has occurred between myself and my Other Half. I am making a deliberate choice to be vague and although I think it may be fairly self explanatory I am happy to talk to anyone who wishes to ask more.